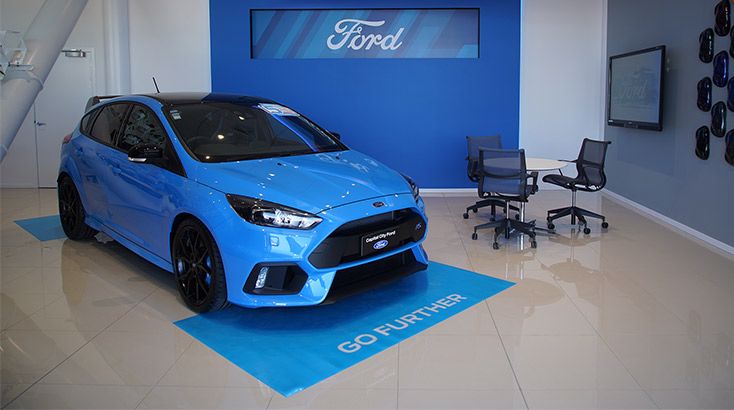 A new look, a new experience. Ford Link is open now!
It is with much excitement that our new showroom in Wellington - Ford Link is now officially open! Ford Link is an automotive retailing experience like no other that is designed to optimise the Ford customer experience and cater to what we see as rapidly changing customer expectations.
Located on the ground floor of the PwC Centre on Waterloo Quay, Ford Link has a friendly and welcoming ambiance that enjoys uninterrupted light and views of the inner harbour.
Inside we have a number of 65-inch touch screens that allow you to interact with the Ford line-up and discover which vehicle best suits you and your lifestyle. If you're planning on bringing the kids, they'll be entertained with free use of our tablets that feature the latest in movies, TV shows and games. Meanwhile, you'll be kept refreshed as our friends next door at Black Doris Cafe provide a drink of your choice.
Managing Director Simon Rutherford explains that when it comes to the Ford Consumer Experience, the company is transforming to meet and exceed customers' expectations at all points.
"Looking at our business through the eyes of our customers, Ford has begun to transform its business across the shopping, buying and ownership experience," said Mr Rutherford. "We recognise that customers want to enjoy a fun and rewarding experience when interacting with Ford and to also be in control. The Ford Link Store by Capital City Ford is all about changing the way Ford interacts with customers. It is a 'guest experience', a no-pressure, no hassle environment where customers can explore our vehicles and services using digital aids at their own pace. It is comfortable, welcoming and highly interactive, featuring many of the things customers would find in a comfortable, airline lounge or cafe," added Rutherford.
We can't wait for you to experience Ford Link!
Ford more info on Ford Link, contact Olivia Brinsdon on 021 883 537 or via email [email protected]
Contact Us Request Email or Call Back
Ford Link, Ground floor, PWC Centre (waterfront side), 22 Lady Elizabeth Lane, Wellington CBD.